Dolan at Schuetz, St. Louis, MO
Dolan at Schuetz is nestled in a neighborhood near Kirkwood and Webster Groves. All Dolan homes do not have a sign in the front yard to respect the privacy of the elders and to truly blend into the community. The wrap-around, covered front porch offers a wonderful view of the neighborhood. A porte-cohere situated on the south side of the home may be used for jumping into the car on a rainy day.
The Schuetz home has nine spacious private suites, each with a half bath, built within a barrier-free environment. Memory boxes at the entrance to each suite help Residents identify their bedroom and orient themselves.
A state-of-the-art spa room offers a relaxing environment and creates a pleasant and positive bathing experience. Additionally, the Schuetz home has several visiting areas, which also accommodate activities. All Dolan homes are designed and constructed for comfort and easy navigation for people with a memory impairment.
Schuetz's house and program are designed to maximize independence and dignity. The cues built into the home, along with the gentle guidance of the CarePartners, consistently meet the Residents' needs and desires, while reinforcing a safe environment. Schuetz, as with all Dolan homes, is managed by a licensed nurse. Purposeful tasks, activities of daily living, physical activities and cognitive stimulation are provided to engage Residents based on their interests and strengths.
""My Mom likes it here. She participates in the daily activities of the house. She helps prepare the food and sets the table. She is drawn out of her room and engaged."
– Cliff, Family Member
Addresses are not listed to protect the privacy of our Residents.
Contact us today for a visit. 314-993-9500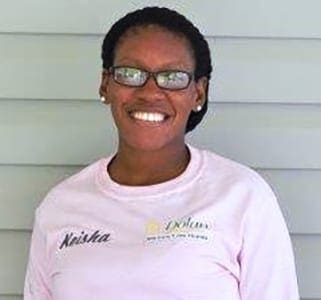 Nakeisha Griffen, LPN
– Nurse Manager Schuetz Manor
I grew up in the South County area and graduated from Bayless High School in 2006. I was lucky enough to be an only child; my mother is the second youngest of 14, and she had no intentions of following my beloved grandmother's footsteps. I, on the other hand, am a mother of two cutie-pie girls, Kailey (8) and Jaida (4). Being a mother is one of the joys of my life.
Shortly after high school, I received my certification as a nurse assistant. Working as a nurse assistant taught me the basics and fundamentals of nursing, and I will forever be grateful. I continued to climb up the ladder and received my certification as a medication tech. Then, I received my LPN license a few years later.
As an LPN, I have had the opportunity to experience different areas of nursing such as long-term care, skilled care, and pediatric nursing. This has broadened my horizon as a nurse and opened my eyes to my calling: geriatric care. I was first introduced to memory care 10 years ago and fell in love. It's a joy knowing that I can get that one moment of joy with a resident.
In my time at Dolan Memory Care Homes, I know that I found my place. It was very evident to me that they absolutely get memory care. I am proud to be a part of the team. I enjoy the person-centered care and home feel. The Residents here at the house can absolutely have a snack at 3am; they surely can sleep in until 9am and then have breakfast. If a resident is adamant that the walls are purple, they are absolutely purple for the day. This is their world, their safe place, and we are here to ensure that. Each day is different and each day is a joy.