Dolan at Les Maisons, St. Louis, MO
Tim Dolan created Les Maisons Memory Care neighborhood – a first of its kind in Missouri. We have a community of four homes on five acres. Each house is independent of itself, but Residents and CarePartners visit neighboring Dolan homes for activities or enjoy a quiet stroll on the cul-de-sac with family or CarePartners.
The residents in Dolan homes live and socialize in the spacious living room or sunroom. The meals are prepared in the large, open kitchen at the center of the house. Residents gather at the family table for meals. Each resident has a private room with a half bath. The secure backyards are accessible to residents and their families. The covered back porch is great for entertaining or just relaxing under the ceiling fans. Our building and program are designed to maximize independence and dignity.
Click here to read about Les Maisons in the St Louis Business Journal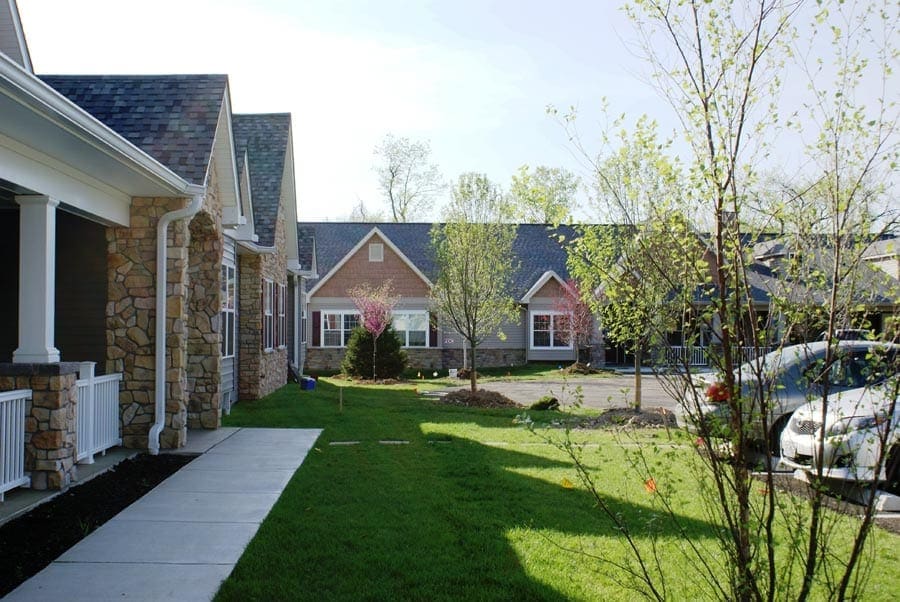 Addresses are not listed to protect the privacy of our Residents.
Contact us today for a visit.
314-993-9500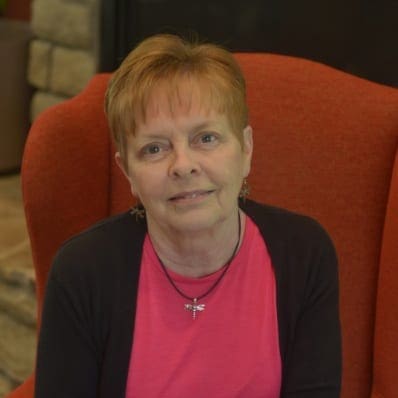 Deborah Schweiss, RN
– Nurse Manager
Joined team in 2016
Dolan Memory Care Homes at Lourdes
I received my RN in 1991. From the very start, I knew I would be working in geriatrics. I have worked in several nursing homes, along with home health care, throughout the years and also spent six years on the ACE unit (acute care for the elderly) at Des Peres Hospital.
I love working with the Alzheimer/dementia population and was so excited when I heard about Dolan Memory Care. The atmosphere in the houses is one of "being at home with family" instead of being in a facility. The Residents are active, happy, and enjoy so many opportunities that a facility could not provide. Each Resident is so special and is allowed the freedom to explore their home, sit on the back porch, and take a walk in the yard with no restrictions. I can't imagine a better place for someone going through the process of finding their loved one a special place where they will be cared for and happy along with being as independent as possible for as long as possible.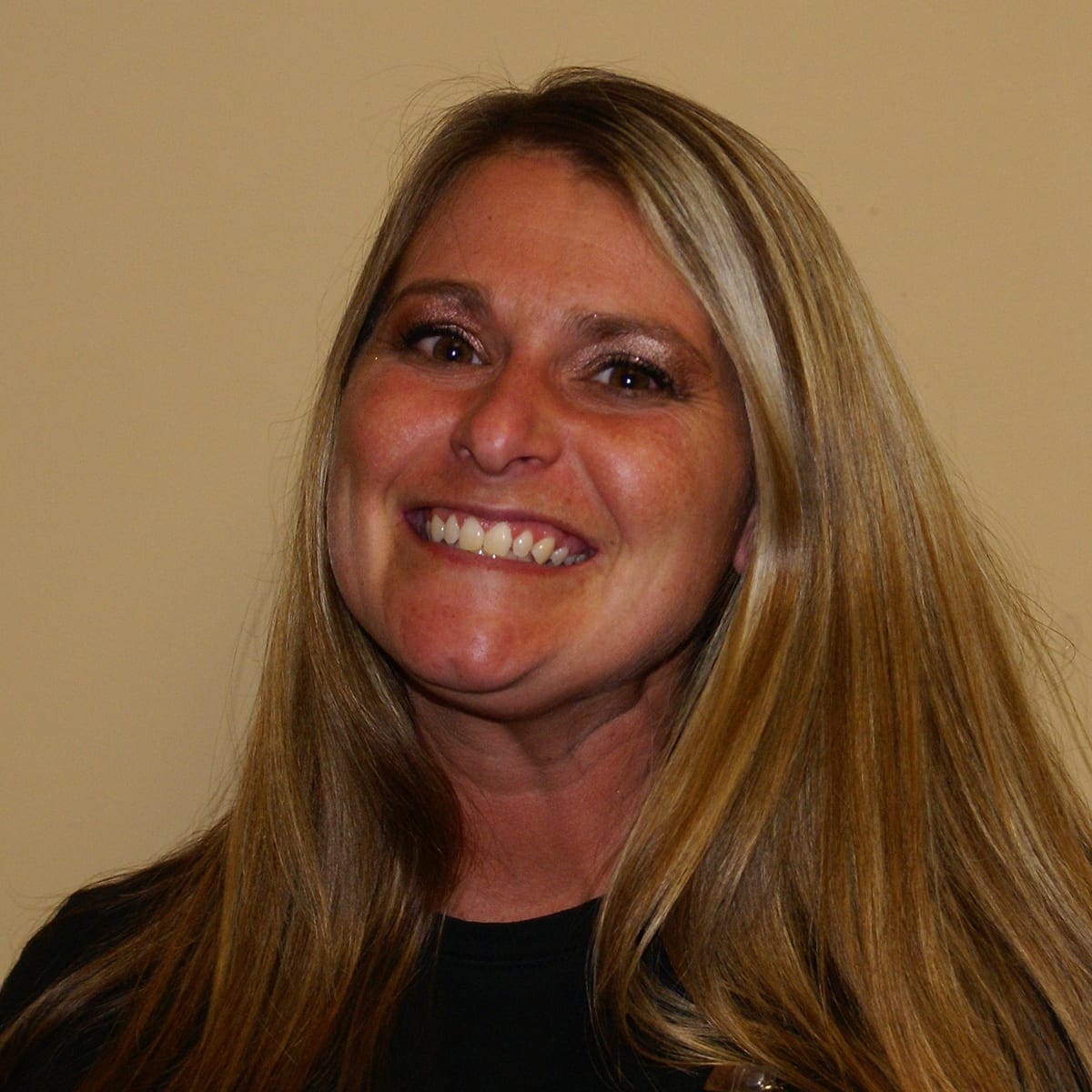 Kelli Herrell, LPN
Joined team in 2018
Dolan Memory Care Homes at Clermont
I grew up in Festus and graduated From Festus High school in 2001. After High school I went straight into nursing school and attended Jefferson College, I knew I wanted to take care of others. I started off working in a nursing home and said I would do it for only a short period just to save extra money. But then I fell in love with my job and absolutely fell for my geriatric patients. I have been an LPN for 16 years working 14 of those years in a nursing home setting. I tried Home health Nursing for a year and a half as it was very fitting for my children's school schedules. But there was something missing…I missed my work family, my residents and my staff. They do become your second family when you do this kind of work.
When hearing about Dolan Memory Care Home from another Dolan Care nurse whom is a friend of mine, my 1st question was "Is there really a such a place?" After researching, interviewing and visiting the homes I found there is truly such place! And I belong here. I couldn't wait to get started on my new journey where I can give so much one 1:1 care to people that need it.
I am a mother of 3 girls, who are my heart and soul. Jersey is 8, Jordyn 13 and Kylee is 18. We enjoy going to and watching their school activities. We love watching hockey games and screaming at the TV when the Blues are losing. We love being at the lake in the summer and being on boats. We like to do Arts and Crafts, Cooking and playing cards.
Dolan Memory Care is my new family, residents and staff, and I couldn't be more thrilled. I take great pride in caring for others, I am grateful for the opportunity to take care of these wonderful people.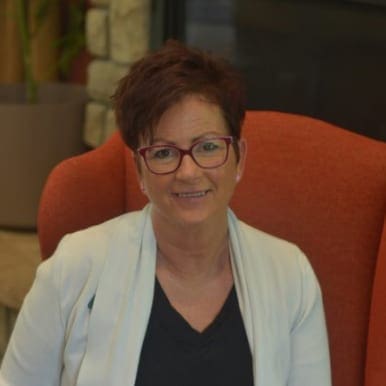 Ellen Kaelin, BSN, RN
– Nurse Manager
Joined team in 2018
Dolan Memory Care Homes at Calais
Ellen was born and raised in Belleville, Illinois.  She is the 7th of 8 children. She is married and has 3 children and 4 grandchildren.  Ellen also has 2 dogs and 1 cat.
Nursing is in Ellen's family.  Her Mother was an OB nurse.  She was drawn to nursing after helping to care for her parents throughout their illness for 5 years.  "I watched my father pass away a little bit every day to Alzheimer's.  I was not happy with the options that were available at the time to loved ones affected from this cruel disease and end of life care."
Ellen obtained her BSN from Goldfarb School of Nursing at Barnes-Jewish College, with emphasis on end of life/elder care.  "From a very young age I gravitated toward elderly people.  I enjoyed the rich history, the stories they were so willing to tell and the love they are always willing to give."
Ellen heard about Dolan Memory Care Homes when her daughter did a clinical rotation through her nursing program at Chamberlain.  She stated, "Mom, this is the place you have always wanted to have for grandma and grandpa.  I think you would love working at Dolan."
When ask about being a Nurse Manager at Dolan, Ellen expressed, "Dolan is by far the best place I have ever seen.  It allows a person with dementia to feel at home.  We are one big family at Dolan.  We allow our Residents to enjoy a home environment and be loved until the end of their life."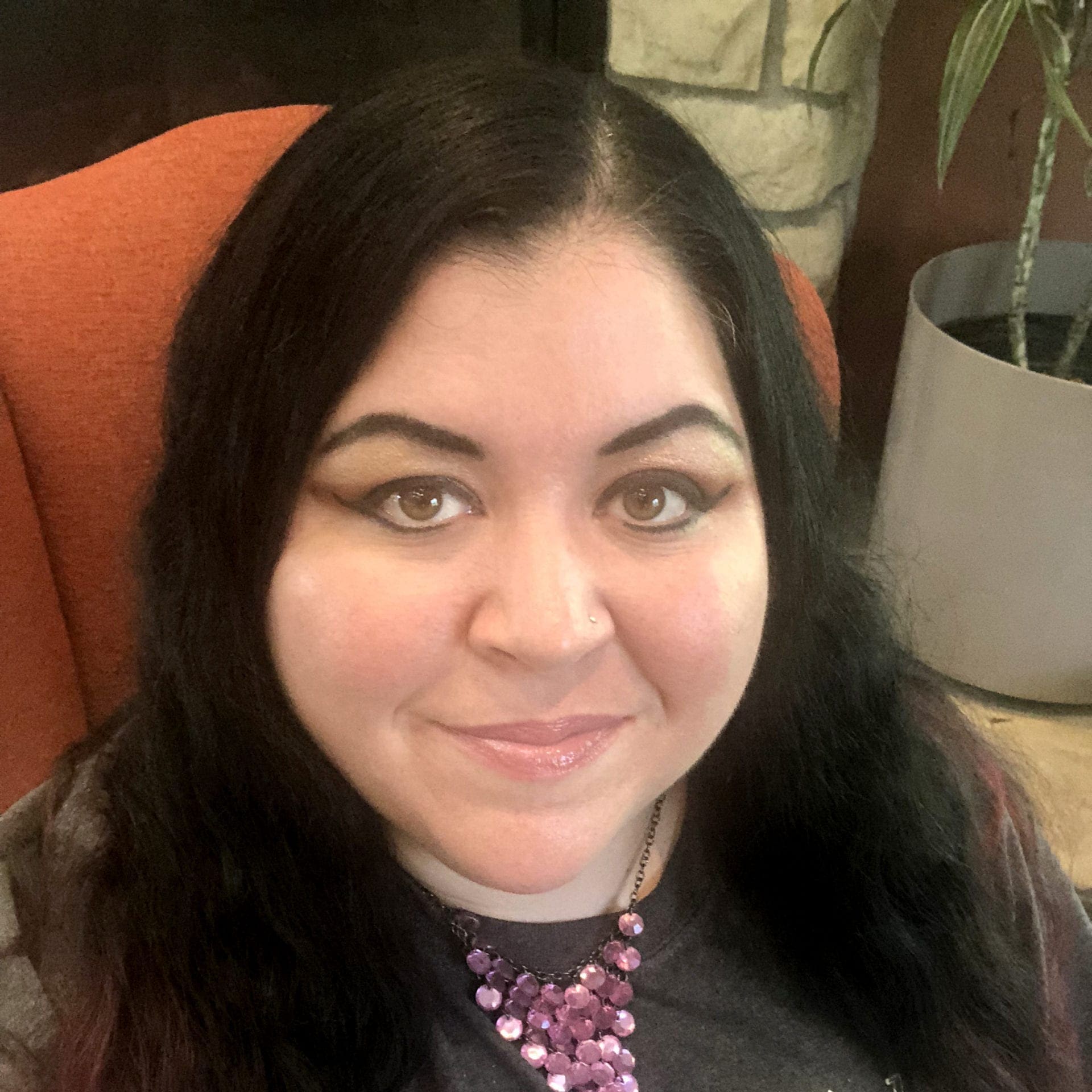 Cassandra Solomon, LPN
– Nurse Manager
Joined team in 2017
Dolan Memory Care Homes at Lyon
I graduated from Festus Senior High in 2001 and have lived in DeSoto, MO, for over 10 years. Growing up I always lived in the country with lots of animals. Most of our time was occupied with traveling and showing horses competitively. Throughout high school I always planned on being a veterinarian, but soon found that my calling was the nursing of people, not animals. I am the proud mother of two beautiful daughters, Lily (9) and Emma (4). I seemed to have passed on the love of horses to my children, as we are the current owner of two four-legged family members.
At the age of 14 my grandmother, who I was very close with, was diagnosed with dementia. Not long after being diagnosed my mother moved her into our home. She was not with us long before hallucinations and aggression (related to fear) occurred and she had to be placed in a facility. It was a nice place, but I'll never forget how much it hurt seeing her there as just another "one of the patients," even though she was so much more to my family and me.
I started working in the medical field at the young age of 17 as a medical assistant for a doctor. Not long into it I found my true path and started applying to nursing school. My first nursing job was at the skilled facility my grandmother lived at. After several years there I decided it was important I become a well-rounded nurse and accepted a position in a hospital. It didn't take long to realize that my love in nursing was with geriatrics and being able to build a relationship/connection with Residents and their families. My nursing career choices always brought me back to long-term care whether it was as a charge nurse, nursing supervisor, or nurse manager.
I will never forget when I first received the call from Dolan. Once I spoke with Dolan I quickly started researching them online. I was amazed and found myself further researching patient-centered care. It is such an amazing concept that I immediately knew I wanted to be a part of. I started working for Dolan Memory Care Homes in February of 2017 and I fell in love. I felt like I had made a complete circle with my nursing career. I started out with my grandmother and her dementia and now I am a manager of a memory care home. I wish every patient with a memory impairment I have taken care of in my more than 15 years of nursing could have had the life that Dolan Residents have, especially my grandmother. Every day I wake up for work I think to myself, "Thank God for Tim Dolan and his vision."