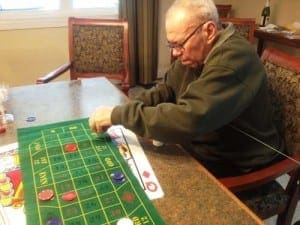 The Life Enrichment program at Dolan enhances dignity and self-esteem by infusing purpose to each resident's day. Engagement primarily focuses on enjoyment, rather than achievement. At Dolan Memory Care Homes, we are not aiming to achieve a perfect product but instead relish in the process.
Each individual experiences dementia differently. At Dolan, we engage all the Residents based on their cognitive strengths. The program promotes exercise and encourages involvement in daily life. Art and music therapy facilitate creative expression. Social interaction is achieved through holiday parties, tea socials, BBQs, meals, happy hours, exercise classes, cognitive stimulation therapy, and visits in the community such as Missouri Botanical Gardens, St. Louis Art Museum, movie theaters, and bowling to name a few.
Dolan Memory Care Homes seeks out the Residents' favorites by discovering their hobbies and past experiences through a Life Story. Drawing from their interests creates a more personable experience. Engagement at Dolan is a combination of scheduled events and spontaneous moments. Because of Dolan's small size, the activities are individualized and designed to suit the Residents' interests and abilities. Our mission solely is to endorse happiness and to embrace purpose in life.
In regards to exercise, we incorporate four different types – endurance, strength, balance, and flexibility – into our program. Endurance or aerobic exercise increases breathing and heart rate. This delays or prevents other diseases and improves one's overall fitness. Strength exercises will make muscles stronger and will help Residents to stay independent and carry out everyday tasks. Balance exercises prevent falls, while flexibility exercises aid in maintenance and keep Residents limber.
Healthy Steps Dance Class
Dancing
Raking leaves
Gardening
Walking around the beautiful gated backyard
Walking Club
Bowling
Yoga
Tai Chi
Ballet Class
Lifting weights and using resistance bands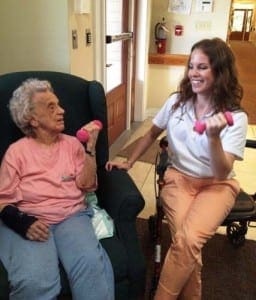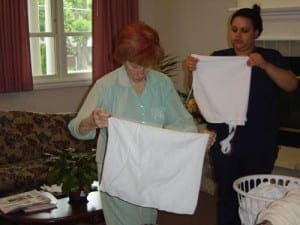 Other activities include household chores, which offers the residents purpose. Residents are encouraged to help, but participation is not mandatory.
Fold laundry
Bake and cook
Make the coffee
Outings to the grocery store
Fill the bird feeders
Sweep the porch
Water the flowers and gardens
Set the table
Retrieve the mail or newspaper
Social activities promote companionship and facilitate communication. Families of our Residents and CarePartners often attend our socials. The Dolan Homes also interact with each other by hosting and inviting Residents over from other Dolan Homes.
Ladies Club
Men's Club
Tea Socials
Birthday Parties
Themed Parties
Movie Nights
Casino Nights
"Happy Hours"
Holiday Parties
Summer Barbeques
Sunday Sundaes – Ice Cream Socials
Yoga Class
Ballet Class
Religious Celebrations and Ceremonies
Symphony Showings
Senior Proms
Boots 'n Bling Dance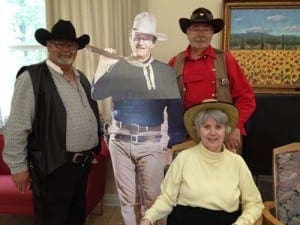 Dolan Memory Care Homes recognizes the importance of intergenerational connection and socialization. Through volunteer programs, we aim to engage the Residents with the community.
Girl Scouts
High School Student Volunteers
Nursing Students
Social Work Students
Children from Religious Communities
The women at Dolan Homes have weekly beauty shop appointments, which includes haircuts, curling, and styling by hairdressers that come to each household. Also offered at each household are manicures. In addition to our musical entertainers, our art therapy program allows expression.
Making Flower Arrangements
Scrapbooking
Painting
Jewelry Making
Embroidering / Needlework
Arts and Crafts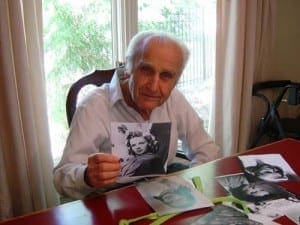 The program also incorporates mind-stimulating tasks, which the CarePartners provide at the homes.
Crossword Puzzles
Word Search Puzzles
Reading the Newspaper
Working out Addition / Subtraction Problems
Sorting Games
Card Games
Bingo
Reminisce Discussions
Jigsaw Puzzles
Memory Games
At Dolan Memory Care Homes, we have accreditation and certification through the following programs:
Music and Memory (Each resident has their own resident with an individualized playlist).
Cognitive Stimulation Therapy (A brain exercise program that utilizes all senses and a hybrid of current events and reminiscing to facilitate engaging conversation).
Healthy Steps (A multi-faceted dance program encouraging well-being).
Price calculators are available for writing essay services to help you figure out the price of writing a customized essay. These sites let you pick the kind of essay you're looking for, the length of the paper in addition to the amount of words or pages. A few basic facts, such as your paper's outline and the topic, as well with the cost of the services, professional paper writer are required. After you've determined the amount you'd like to pay then you'll be taken to a secure payment page. After that, you'll be able get your completed paper once you pay for it.