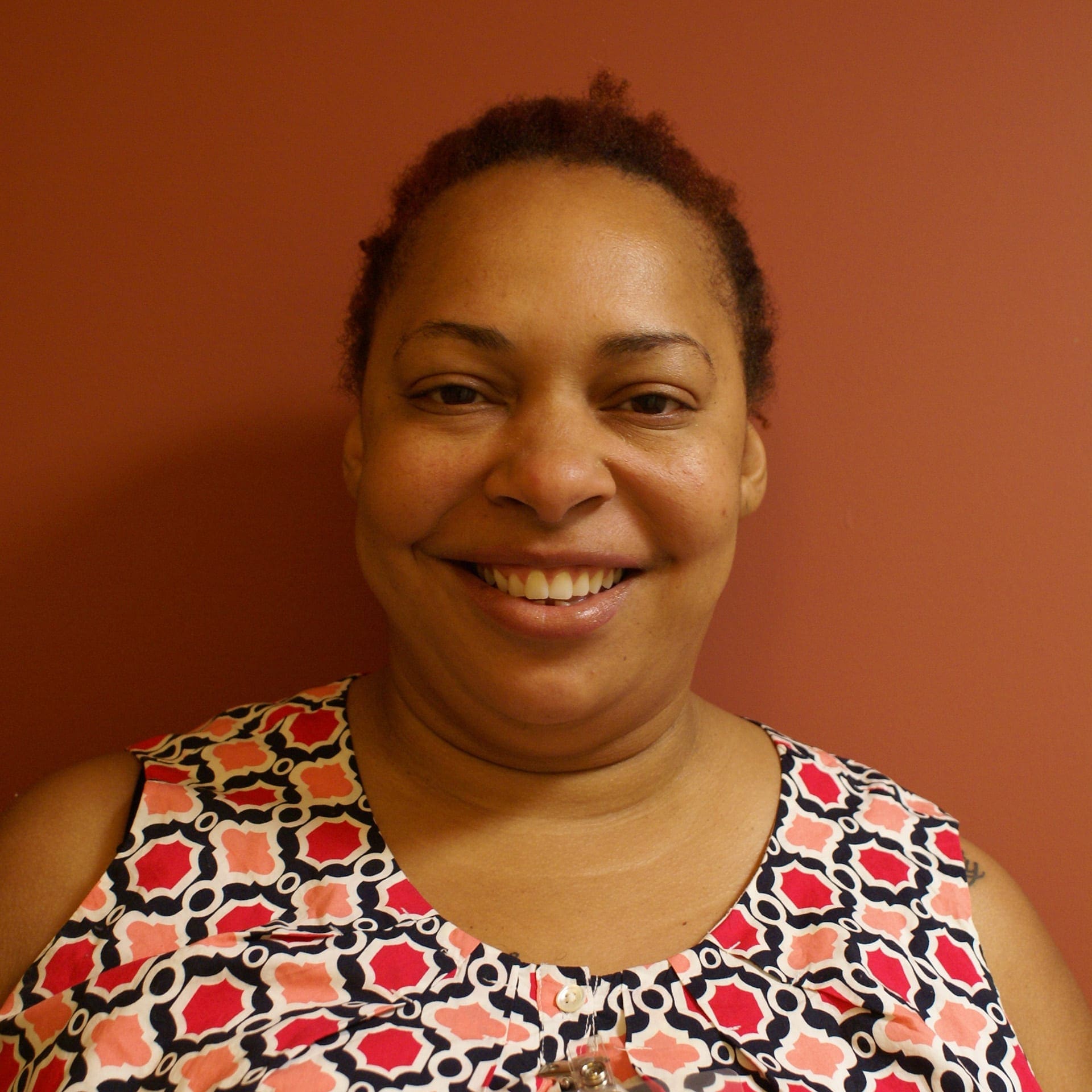 Tarris
– CarePartner of the Month
Awarded in 2016, 2017Joined team in 2016
Tarris is from St. Louis. She has one sister.
Tarris is a wife and a mother of three. She also has one nephew and two nieces. In her free time, she loves to shop.
Tarris has a sister who works at Dolan and always talked about the homes. She convinced Tarris to come to Dolan. When asked about working in the homes she said, "I love Dolan. I love my house manager and work partners. My Residents give me life."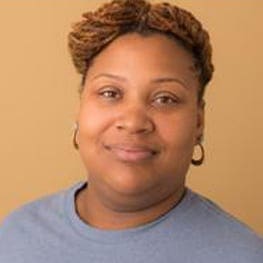 Earsalyn
– CarePartner of the Month
Awarded in 2015, 2016, 2017, 2018Joined team in 2014
Earsalyn is from St. Louis. She was raised by her Grandparents and an Aunt due to the loss of both her parents at a young age. Earsalyn and her husband have 3 children – ages, 20, 18 and 13.
In her free time Earsalyn enjoys entertaining with Family and Friends. She always enjoys family time, playing cards, bowling and family outings.
Earsalyn likes taking care of people and has been in the long term care field for 10 years. A friend who is employed by Dolan Memory Care Homes told her about the company. She applied and liked the community as well. Earsalyn has been with for Dolan for 4 years and has been named a CarePartner of the Month each year.
Dolan made her feel welcome day one. "It has been a good journey these past 4 years. The diversity of the work I do ensures that no day is like any other, and I am always focused on bettering the day with making them (Residents) smile, which makes you feel good when the day is done. It has been nothing but a blessing to work with good workers. The families we meet become more of big family as well".
"I really enjoy coming to work and helping the Residents everyday that I am here. Sometimes it is a walk through the neighborhood or sitting outside playing catch or just talking. Making somebody smile".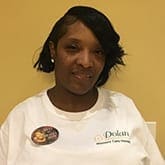 Carla
– CarePartner of the Month
Awarded in 2016, 2018Joined team in 2016
Born and raised in St. Louis, I come from a loving, caring family. I am the eldest of three with 2 younger brothers. I have 2 children, a son and a daughter, and a 3 year old grandbaby.
In my free time I love to read and watch old TV shows. Most of all in free time I love to get my grandbaby, she is my world.
I have been a CNA for over 20 years. I have done private duty and home health care. Taking care of the elderly is my passion. My best friend, told me about Dolan Memory Care Homes. She told me to come on board, because she said I would love the job and no doubt I do!
"I love working at Dolan, it feels like I belong here. The staff is very nice and family oriented. The Residents make you feel loved. They can also show such appreciation when you are caring for them with a smile. Sometimes it is just a hug or a simple conversation. I love them and I extremely love my Dolan Family I feel this is where I need to be, part of the Dolan Memory Care family."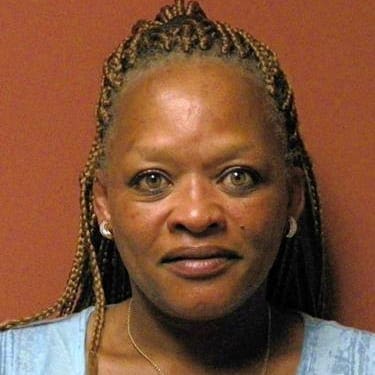 Valerie
– CarePartner of the Month
Joined team in 2016
Valerie is from Fort Bragg, which is located near Fayetteville North Carolina. She has three daughters and one son. Her daughters and their families live in North Carolina, and her son and his family live in Seattle, Washington.
In her free time, Valerie likes to go to the movies. She also enjoys visiting with her extended family.
She started in the healthcare field with her mother. They worked together until her mother became sick and retired.
Valerie enjoys working at Dolan Memory Care Homes. She likes the Residents and their families.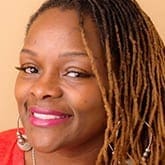 Felicia
– CarePartner of the Month
Joined team in 2012
Felicia is from St. Louis; born at Homer G Phillips Hospital and raised on the northside of St. Louis.
"Writing about my family makes me want to tear up, bittersweet memories, we have endured so much but we are still going strong. I am the second oldest child, 2 girls and 3 boys, born to Pastor Rosalind Moore, who is a cancer survivor along with her young brother.Her other six siblings were not so fortunate. I myself am a fairly healthy mother of 4 children and Nana of 5 grandkids, whom I love to hang out with. Hence they keep me young!"
In her free time, Felicia likes to work out. "Boot camp for life baby !" She also likes to roller skate, throw darts, go to the movies and attempt to shoot pool. She loves to attend church.
Felicia came to Dolan as an opportunity for employment, as well as for the joy she gets out of loving on, caring for and being around the elderly.
Of her experience at Dolan Felicia says it has been truly great. "I have worked with some of the coolest and sweetest co-workers. I have been graced to work under some of the fairest and coolest management personnel and blessed to give care to some of God's most precious seniors, whom I refer to as an assorted box of chocolates. You never know what you are going to get, but I love them all the same."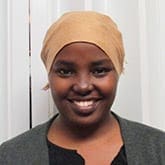 Ayan
– CarePartner of the Month
Awarded in 2017, 2018Joined team in 2015
Ayan is originally from Kenya. She has two brothers who live with her and her mother. She has two half-brothers who are still in Kenya. She said, "Sadly we lost my father last year, I miss him."
Ayan said that she was looking for a job and her cousin recommended Dolan Homes. She loves working here.
"Working at Dolan has given me experience that has opened my eyes. I'm learning so much every day, from taking care of my Residents to working with other people with different personalities. Because of this job I have found my calling. I am back in school expanding my knowledge in this field. There is sometimes a problem here or there, but it always works out. This is a good place to work."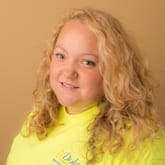 Nina
– CarePartner of the Month
Joined team in 2011
Nina was born in Poplar Bluff, Missouri. She moved to St. Louis when she was 15 years old. Nina and her husband, Ryan, were high school sweethearts. They have been together for 13 years and married for seven years. Nina and Ryan have twins, Mason and Madison.
In her free time Nina and her family like to be outdoors, hunting and fishing or going to a park and hiking. She also enjoys crafting, movies and reading. Nina says her family "is her life."
Nina came to Dolan Memory Care Homes because she had always thought about helping others, whether that was nursing or volunteering – she wasn't sure, she just liked taking care of people and making them smile.
She has been at Dolan Memory Care Homes for 5 ½ years. She started as a CarePartner. She stated that she learned she prefers to be more hands-on and transferred to the maintenance department, to see another side of the business, and stay with Dolan Memory Care.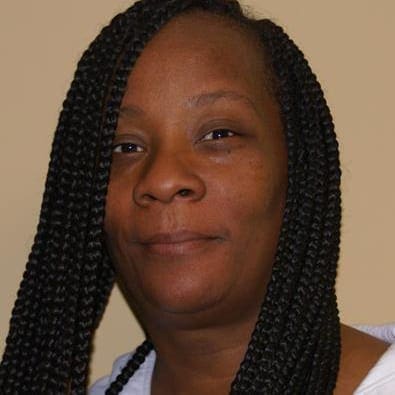 Minnie 
– CarePartner of the Month
Joined team in 2017
Minnie is from St. Louis. She said "I love my city, although there has been trouble everywhere… but I pray for our city".
She said her family is very fun and they enjoy a good time. They also love helping others. In her spare time, Minnie enjoys riding her bike or skating with her 2 youngest kids.
Minnie found Dolan Memory Care Homes on the internet. She said that after she was hired, "I have been grateful ever since." She loves working here with her Residents. Her co-workers and Nurse Manager are great. "John [Director of Operations] is a great person and was very understanding when my husband passed away on February 14, 2018. Working here has helped me get through most of the hard days."

Crystal
– CarePartner of the Month
Joined team in 2010
Crystal is from St. Louis where she grew up with 9 brothers and sisters. Some of her siblings live in St. Louis and the rest live in Tennessee. In her free time she likes to spend time with her family.
Crystal came to Dolan Memory Care Homes because one of her sisters was working in a Dolan home. She has been a CarePartner at Dolan for 8 years. She expressed, "it is like a home away from home. I love the Residents, they are like family."
Tiffany 
– CarePartner of the Month
Joined team in 2018
Tiffany is originally from California where she grew up with 8 brothers and sisters. Tiffany has two sons ages 9 and 5. In her free time she enjoys baking with her kids.
When ask about working at Dolan Memory Care Homes Tiffany said, "I always wanted to get into the health care field and one of my friends told me about Dolan." She continued talking about the environment, "Working at Dolan has opened my eyes to the disease of Alzheimer's and dementia and how it effects the lives of people. And I like the opportunities to grown within."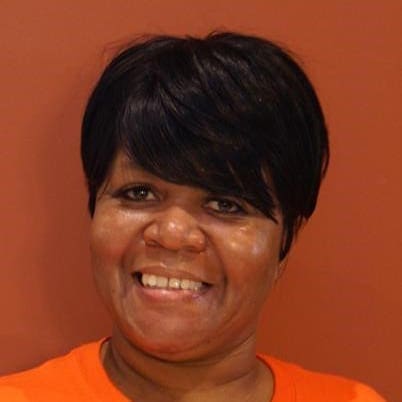 Yvette
– CarePartner of the Month
Awarded in 2016, 2018Joined team in 2015
Yvette was born and raised in St. Louis. She comes from a large family, Mother and Father and 5 girls and 1 boy. Twins run in her family, her Father is a twin and so is Yvette. She has 1 son and says "both of his grandparents are twins."
Yvette likes to spend her free time with her family and friends. She especially enjoys a movie night.
Yvette heard about Dolan Memory Care from her good friend Laverne. "She liked it so she thought I would also like working here."
When asked about Dolan she states, "Working with a lot of different people, different personalities is fun. Dolan treats you like family – warm and friendly."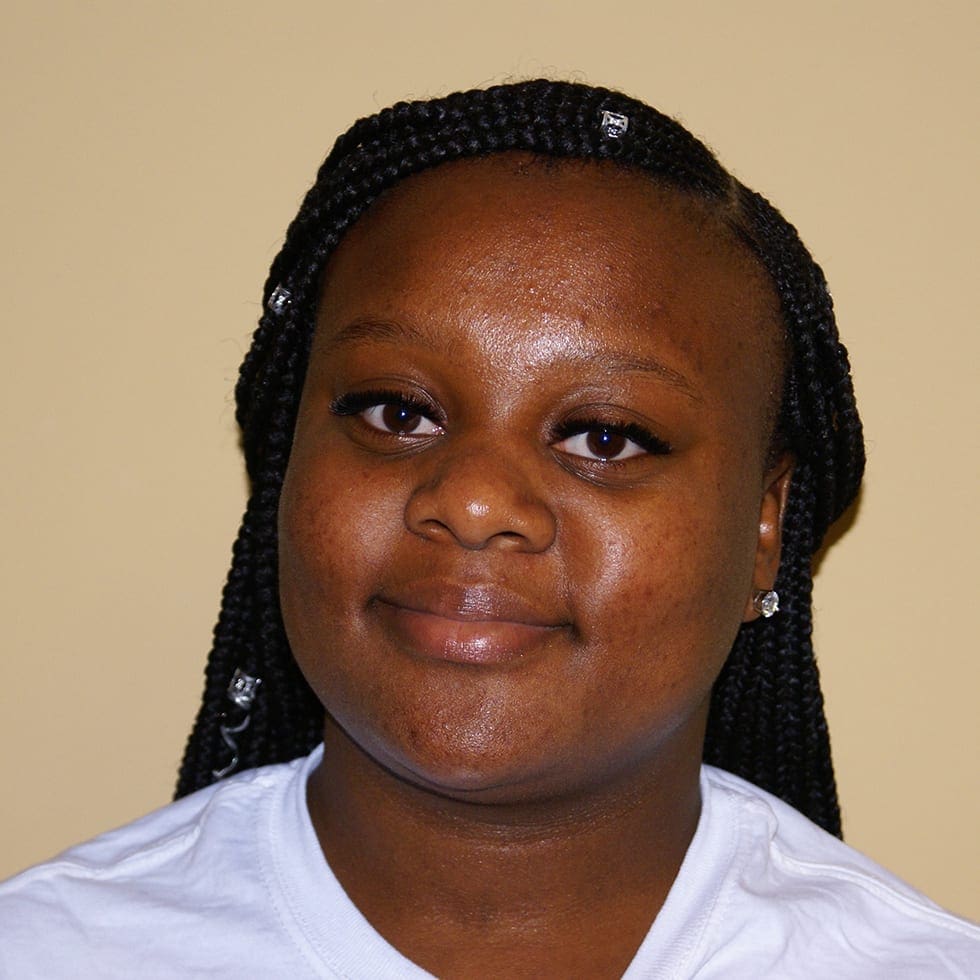 Tautiana
– CarePartner of the Month
Joined team in 2018
Tautiana is from St. Louis. She describes her family as loving and caring. These are the same traits we see in Tautiana.
In her free time Tautiana enjoys, shopping, sleeping and cleaning. She also enjoys taking care of people.
Tautiana's mother brought her to Dolan Memory Care because of her compassion and care for the elderly. When asked about working at Dolan Tautiana states, "I love working at Dolan Memory Care Homes. This job was an eye opening for me. It brings me joy because the Residents are loving and fun to be around."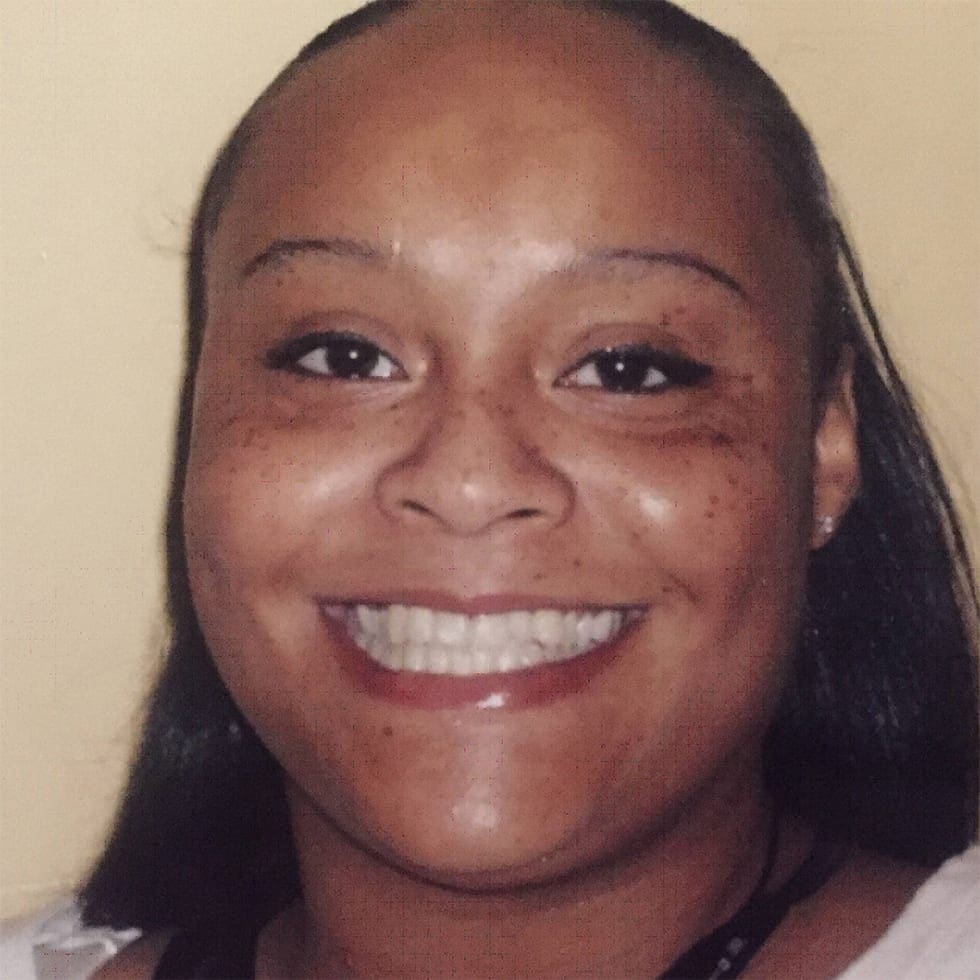 Danayla
– CarePartner of the Month
Joined team in 2006
Danayla is from Marion, Indiana. She is married and has 3 sons, ages 7, 13 and 14. In her free time Danayla likes to read novels and binge watch her family shows.
A friend of hers, Delisa, is a CarePartner at Dolan and suggested she join the team. Delisa had expressed how much she like it, so Danayla applied and the "rest is history".
Danayla describes working at Dolan: "…is fun and challenging at the same time. The Residents are like your Grandparents, they keep you on your toes at all times."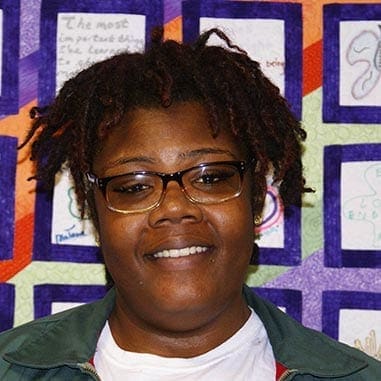 Ciera
– CarePartner of the Month
Joined team in 2014