No matter your age, staying active, both mentally and physically, is very important. This is especially true for older adults with Alzheimer's and dementia.  Both physical exercise and mental stimulation have been shown to greatly benefit those with memory impairment.  
Working out your brain and your body is just as important during the cold months as it is during the warm ones.  However, when the weather gets chilly you tend to have less options to do so, and often less motivation as well.   
Here at Dolan Memory Care, we like to get creative with ways to stay active during the winter.  Here are some great ideas for Alzheimer's and dementia-friendly activities for when it's too cold to go outside.
Physical Activity 
Staying physically active is particularly tough when you're stuck indoors. With limited space and limited supplies, it can feel challenging to maintain physical fitness at home.  We work within these restrictions to provide unique opportunities for physical activity in our Dolan Memory Care Homes. 
One way to work out inside is with exercise equipment like an elliptical, stair stepper, or stationary bike.  We also host fitness classes for our residents to take part in right in our common living spaces.  These classes are geared toward those with Alzheimer's and dementia, and can include everything from stretching to yoga to weight-bearing exercises. And another great way to stay active inside is to dance!  Music and memory are closely intertwined, with a variety of research connecting music to improved cognition and memory. Turning on some great music and dancing along is a great way to benefit both the body and the mind, and can be one of the best activities for Alzheimer's. 
Mental stimulation 
It is also important to keep your brain active during the winter months. The best memory care homes provide a variety of activities to encourage cognition and mental stimulation. Here at Dolan Memory Care, we offer great indoor activities that get our residents thinking. We proudly lead CST (Cognitive Stimulation Therapy) sessions for many of our residents.  These group lessons are designed for those with Alzheimer's or dementia, and have been shown to ease symptoms of mild cognitive impairment.  
Outside of formal settings like CST, we have lots of other stimulating fun in our memory care homes as well! Our Care Partners and activities teams work tirelessly to come up with unique games and puzzles our residents can engage with.  Our memory care residents take part in everything from card games to puzzles to Bingo!  We also put together a variety of creative endeavors, like drawing, painting, and seasonal art projects for our residents. 
Socialization
An active social life is important to maintain too, even as winter rages on! Our memory care homes are set up to encourage residents to socialize and build relationships.  While each resident has a private room, our homes also have inviting and cozy common spaces where residents can spend their time. From comfortable couches to large tables that are perfect for crafts and games, the design of our memory care homes is based specifically on the needs of those with Alzheimer's and dementia.  Plus, in addition to the design, our care approach and team of Care Partners work hard to provide special chances for socialization.  We put together seasonal holiday parties, organized activities, and informal games where our residents can interact and socialize with one another.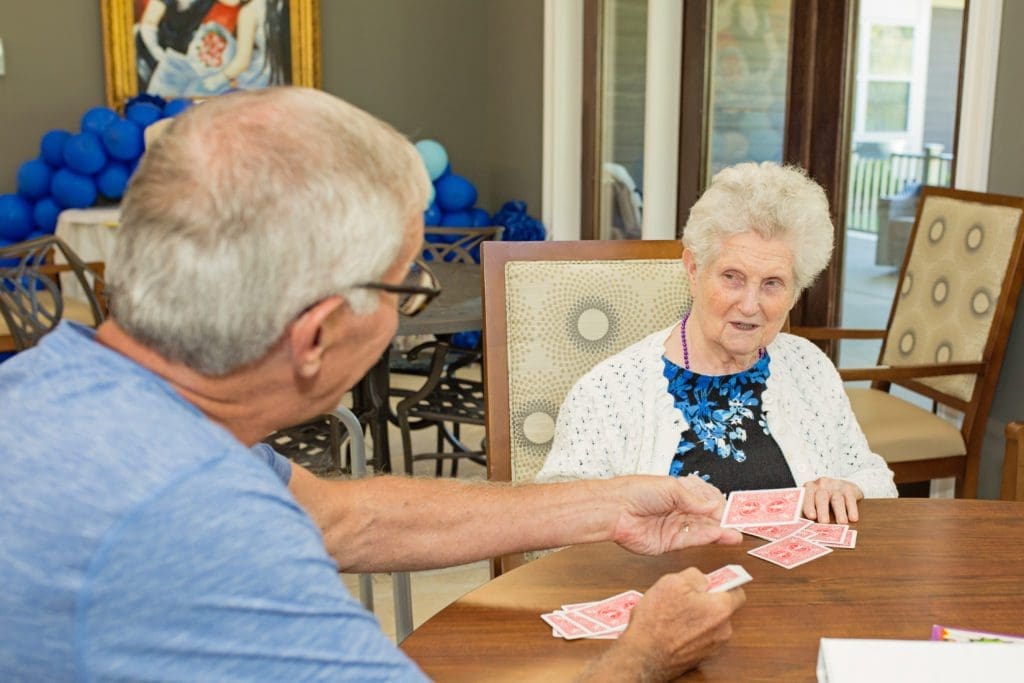 While staying active physically, mentally, and socially can be challenging when it gets cold, it is important to try. For those with Alzheimer's and dementia, staying active can improve their quality of life and even ease their symptoms. We hope the ideas above, all of which we make use of in our memory care homes, can help you come up with your own ways to stay active this winter!