Dolan Memory Care Employee Spotlight: Tina Frost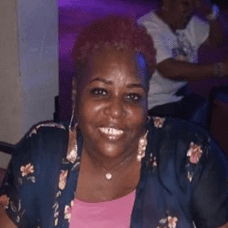 Here at Dolan Memory Care, we talk a lot about the unparalleled care we offer to all our residents. Today, we'll be sharing about this care straight from the source! Tina Frost has been a valued member of our team here at Dolan for over 8 years, and has provided tremendous care to our residents during that time. Tina is compassionate, kind, patient, and all that we here at Dolan strive to be! We had the chance to get Tina's answers to a handful of questions about her experience working for Dolan Memory Care and what the Dolan Difference really is.
Please introduce yourself
Hello my name is Tina Frost and I am a mother of seven beautiful daughters. I love helping people and making a difference in someone's life!
How long have you worked at Dolan Memory Care?
I have worked for Dolan Memory Care for 8 yrs. and 8 months. I started at Clermont, then I moved on to overseeing the four houses of Les Maison and then I moved to Dublin at Waterford. I am now in the Dublin office as part of the leadership team.
Which home(s) have you worked in?
I have worked in 16 of Dolan's houses, the only house I haven't worked in is Mason!
What is your job title and what do you do in this position?
I started as a caregiver, then I became a night supervisor and resigned because of health issue. I then became a lead in Dublin house until I got the position I am currently in now. My current position is the Food Service Assistant/Trainer. I now order food for our 17 houses, teach new hires in bootcamp on food safety, food preparation, customer service, dish washing, cleaning, and sanitation as well as counsel our care partners and check in on them regularly to make sure they are succeeding at their job. Helping the caregivers to be positive, motivated, and successful is all a part of the job.
What is the best part about your job?
The best part of my job is knowing that I am making a difference to the residents who can't help themselves. I love going above and beyond to make sure that my residents' needs are met and letting them know that they are safe by communicating, singing, dancing, smiling, laughing and having fun with them.
What is your favorite memory from working at Dolan?
Working at Dolan is a favorite memory by itself but if I have to pick, I would say, when I first started at Dolan, I was working at Clermont and I was part of The Dream Team (named by the residents' families because the family members felt they didn't have to worry about their loved ones being taken care of as long as myself and four other young ladies were caring for their loved ones). I truly enjoy doing my job, having fun while doing my job, and making the residents happy. I also love the parties when we come together and have fun and get appreciated for the work that we do. Finally, it's rewarding to be recognized by my boss as part of the dynamic dual team.
How is Dolan Memory Care different from other memory care homes?
I have never worked at any other memory care homes, but I can say that we have a very compassionate and loving team who loves the residents like their own family and treats everyone as family. I also couldn't ask for a better boss! Mr. Dolan goes out of his way for the residents and the staff. You can always find him out in the neighborhood picking up trash and making sure everything is running smoothly.