This a turbulent time in our country. We at Dolan Memory Care Homes stand by our values of a respectful and peaceful workplace.
As an organization in long term care, we are not any more qualified than anyone else to offer our opinion on social matters. However, Dolan is committed to upholding our values, which include creating a respectful workplace for all, and that will never change. What we say to each other matters. How we treat each other matters.
Dolan Memory Care Homes is incredibly fortunate to have an award-winning team. We aim to promote from within, create a career path for all employees and give them the opportunity to maximize their potential. In the effort to be an ally in equality, Dolan supports people of color. As such, we would like to highlight a handful of health care professionals who have demonstrated excellence:
Kiera Scaife – Staffing Coordinator
Joined team in 2010
Dolan Memory Care Homes is fortunate to have an outstanding team member, Kiera be apart of the organization for over 10 years. She has held several positions and as a Care Partner (3 years), Activities Assistant (5 years), and now Staffing Coordinator. Kiera shares, "Working at Dolan has made me love working with people. Residents have become my extended family. Working here has been a great experience leading to many friendships with staff and residents."
Natasha Raines, CMT – Assistant Nurse Manager
Joined team in 2003
Natasha has worked at several Dolan homes and is a mentor to new care partners. Her favorite aspect of Dolan is the ability to spend one on one with residents, noting she wouldn't have this luxury at other long term care communities. She appreciates the time to build relationships through hand holding and asking about their past. She understands this investment builds trust.
Ranada Conners – Assistant House Manager
Joined team in 2009
Ranada has been with Dolan Memory Care Homes for over 10 years. She was a CarePartner, a Night Supervisor, Staffing Coordinator and most recently stepped into the role as our Assistant House Manager. With a caring, compassionate heart she has always been available to train and develop the new Care Partners through leading by example. Ranada's success is boiled down to her mantra: "Team work makes the dream work."
Danayla – Night Supervisor
Joined team in 2006
Danayla is from Marion, Indiana. She is married and has 3 sons, ages 7, 13 and 14. In her free time Danayla likes to read novels and binge watch her family shows.
Danayla describes working at Dolan: "…is fun and challenging at the same time. The residents are like your Grandparents, they keep you on your toes at all times."
Earsalyn – Big SIS
Joined team in 2014
Earsalyn is from St. Louis. She was raised by her Grandparents and an Aunt due to the loss of both her parents at a young age. Earsalyn is a Care Partner with the distinction of Big SIS, which is our mentorship program at Dolan. "The diversity of the work I do ensures that no day is like any other. I really enjoy coming to work and helping the residents everyday that I am here. Sometimes it is a walk through the neighborhood or sitting outside playing catch or just talking. Making somebody smile".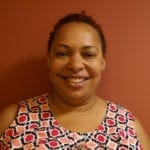 Tarris – Big SIS
Joined team in 2016
When asked about working in the homes she said, "I love Dolan. I love my house manager and work partners. The residents give me life."
Ayan – Big SIS
Joined team in 2015
Ayan shares, "Working at Dolan has given me experience that has opened my eyes. I'm learning so much every day, from taking care of my Residents to working with other people with different personalities. Because of this job I have found my calling. I am back in school expanding my knowledge in this field. There is sometimes a problem here or there, but it always works out. This is a good place to work."
Vanessa – Big SIS
Joined team in 2018
Vanessa started working at Dolan Memory Care Homes in 2018 and has over 20 years of healthcare experience. Vanessa strongly feels that working in geriatrics is her true calling. She shares, "I love with my heart and serve with my hands. It's about the residents." Her favorite part of working at Dolan is the supportive leadership team. She feels that her role at Dolan, "is more than a job."