It seems as although there is a constant stream of research linking a risk of Alzheimer's to a particular food or nutrient. Recent studies have pointed to a possible association between the nutrient called choline and a reduced risk for Alzheimer's disease.
Choline, The Essential Nutrient
According to the National Institutes of Health, Office of Dietary Supplements, choline is "an essential nutrient that is naturally present in some foods and available as a dietary supplement."
It is a nutrient required for multiple steps for one's metabolism and for cell structure of all plant and animal cells. Thus, it is an important element of brain health. Furthermore, choline is necessary to produce acetylcholine.
If you follow the world of Alzheimer's research, you may have heard the term acetylcholine before.
This is a neurotransmitter heavily involved in the memory, mood, and muscle controls of our brain-all functions directly affected by Alzheimer's disease.
Though there is little research to support these theories, some experts hypothesize that increased levels of choline in one's diet may support the structural integrity of that person's brain cells and thus may reduce the risk of Alzheimer's disease by way of healthier neurotransmitters.
Foods High In Choline
Foods high in choline include: beef liver, hard boiled eggs, beef top round, soybeans, chicken breast, and many others.
The NIH emphasizes that "future studies are needed to clarify the relationship between choline intakes and cognitive function and determine whether choline supplements might benefit patients with Alzheimer's disease or other forms of dementia".
Choline Diet Supplementation
In the meantime, you can supplement your diet with other foods proven to be chock full of nutrients required for good brain health: salmon, trout, walnuts, flax seeds, blueberries, produce, spinach, quinoa, and several others.
Pairing these dietary choices with protector lifestyle factors like social connection, mental stimulation, meditation, limiting consumption of alcohol and tobacco, routine exercise and good sleep is the best approach for reducing risk of Alzheimer's and related dementias.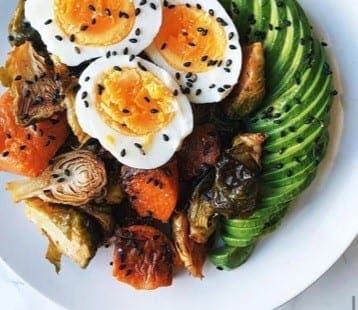 Courtesy of MindBodyGreen