John Munch has served as Director of Operations at Dolan Memory Care Homes for 20 years and has recently earned a well-deserved retirement in June 2021. The number of residents that were under his watch or staff you guided and mentored are astronomical. He has truly made an impact on countless lives.
As the Director of Operations for Dolan Memory Care Homes, John oversaw all aspects of operations for the company. John received a BA in Business from Augustana College in Sioux Falls, South Dakota, and an MBA from Lindenwood College in St. Charles, Missouri. His career in long-term care began in a McHenry County (Illinois) Nursing home working part-time during summers and semester breaks in maintenance. Following graduation, John became an Assistant Administrator, which led to being a licensed nursing home administrator. Since that time, John had several assignments as an Administrator, an Executive Director, a Regional Administrator, a Regional Director and Director of Operations for various management companies.
In 2002 John was at a crossroads in his career and following twenty-five plus years of corporate healthcare management he was looking for a change. Fortunately, he met Tim Dolan and realized that long-term need not be a spreadsheet. Small group homes provided the opportunity to provide long-term care on a personal level, a level that you could make a positive difference; long-term care the way it should be.
He has great interactions with the residents and wonderful stories to share. John says "I feel very fortunate to be part of Dolan Memory Care Homes."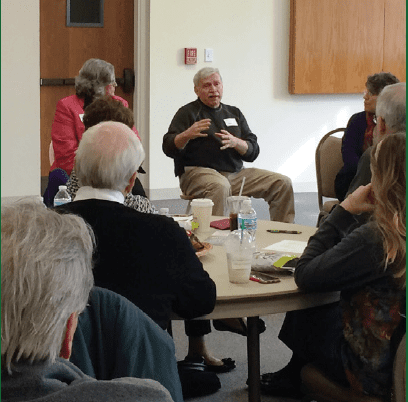 A few staff wish John the best:
" John has integrity. He is genuine. No matter the day, time, or what was on your plate, you always took the time to make sure your team was supported. With all that you had to juggle, whenever I called, I knew you would help and have my back. That is a rare quality."
"You consistently put residents and your team first. You lead the team by example and supported them so THEY could be successful."
I will miss hearing your say on Monday meetings "Let's kick this off!" or telling me to "SLOW IT DOWN." Nothing will beat hearing your say "Moving right along," while Toni is mid-sentence. You know we have spent way too much time together when I catch myself saying "I can't complain," or "I'm peachy."
We celebrated his retirement with a party, raising canes, diet coke, and a roast! We will miss you John! Please do not be a stranger!