When you think back and reflect over your life, what comes to mind? Maybe you remember fondly the family traditions on holidays, your wedding, or raising your own family? One element ties the many chapters of our lives together: music. We may not realize it explicitly, but the music and songs of our lifetimes carry significance much deeper than which we give it credit.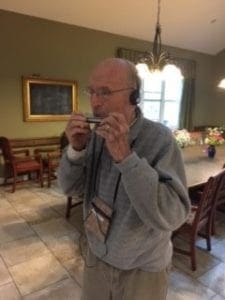 This writer will always think of the thrill of decorating her family's Christmas tree when she hears Bing Crosby's Christmas album, and of tender moments as her mother sang "Puff the Magic Dragon" at bedtime.  As you read this, we invite you to reflect on any songs that cue nostalgia for you. What song did you and your spouse dance to at your wedding? What artist do you recall always crooning from the record player? What was the one album you always played on your 8-track? The emotional attachment music offers is no different for residents with dementia.
While the anecdotal evidence is plenty compelling to speak to the effect, much peer-reviewed evidence exists regarding how powerful music is to us. Music is processed by the part of the brain that often goes undamaged by memory impairments like Alzheimer's disease. This leaves a world of opportunity to use music to enhance the quality of life for memory care residents at Dolan Memory Care Homes.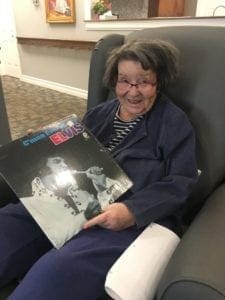 One program we are immensely proud of at Dolan Memory Care Homes is our implementation of Music and Memory™. Music and Memory™ is a non-pharmaceutical intervention to provide quality of life and aid in the symptoms of sun-downing and other behaviors. At Dolan, every resident has their very own iPod or MP3 player with an individualized, tailored playlist. Every resident has their own taste in music, and as such, a Dolan Memory Care social worker completes a lengthy assessment in order to create a completely customized playlist for each person. Of course, we don't expect our residents to operate an MP3 player on their own. Music and Memory™ is meant to be an engaging activity between residents, staff and visitors. This program is free for every resident of Dolan Memory Care Homes.
As we see daily, music is a source of joy, comfort and contentment. Without fail, we see an emotional reaction from residents every time a part of the brain awakens because of music.  Maybe it's from hearing John Denver's "Take Me Home Country Roads" for the first time in decades. Maybe it's a happy, tearful moment of nostalgia and lucidity after hearing "Love Me Tender" start up.  It can also serve as a tool for connection between family members. For one resident and his wife, it was dancing to "Around the World in 80 Days", their wedding song, in the living room of a Dolan home.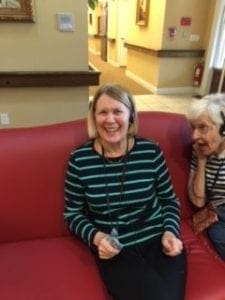 When music is not serving as the soundtrack to our lives, it's aiding in the comfort and quality of life for residents with memory impairments. It has been proven to reduce anxiety, depression, agitation and other sun-downing behaviors. One resident who refused dressing changes was suddenly happy to have her nurse change bandages because she was singing along to "Buttons and Bows". Another resident's wife always felt guilty leaving her husband after a visit. After introducing Music and Memory, she spent their visits listening to his playlist with him. Suddenly, he was able to serenade her and the rest of his house with his harmonica along to the music, long after their visit had ended.  Another individual's anxiety is immediately mitigated by listening to "Moon River" by Andy Williams-not the Perry Como version, per her husband's advice.
Our love for music doesn't disappear with our memories. Individualized, person-centered programming like Music and Memory™ is yet another hallmark of the "Dolan Difference". When a person with dementia moves into Dolan Memory Care Homes, he or she is sure to receive the best possible customized care. Included in this care is their favorite music downloaded to a Music and Memory™ device that offers quality of life, happiness, nostalgia, and visits to a previous time in life.