Let the music play!  In our memory care homes, we love listening to music.  Great music can enhance anyone's life, but that is especially true for individuals with Alzheimer's and other dementias.  
Benefits of Music 
The power of music really cannot be overstated.  So many of our best and clearest memories are associated with a song.  Major life moments tend to be associated with the soundtrack that accompanied them.  Not only is music closely tied to memories, but it has huge benefits in the present as well.  Listening to good music can help to ease anxiety and improve mood.  It has been shown to decrease depression and sun-downing behaviors. It is a valuable tool to help improve the quality of life for our memory care home residents. 
It is also interesting to note that the part of the brain that processes music is an area that often goes undamaged by memory impairment like Alzheimer's. This explains why those with memory impairments can still benefit so strongly from listening to music they love.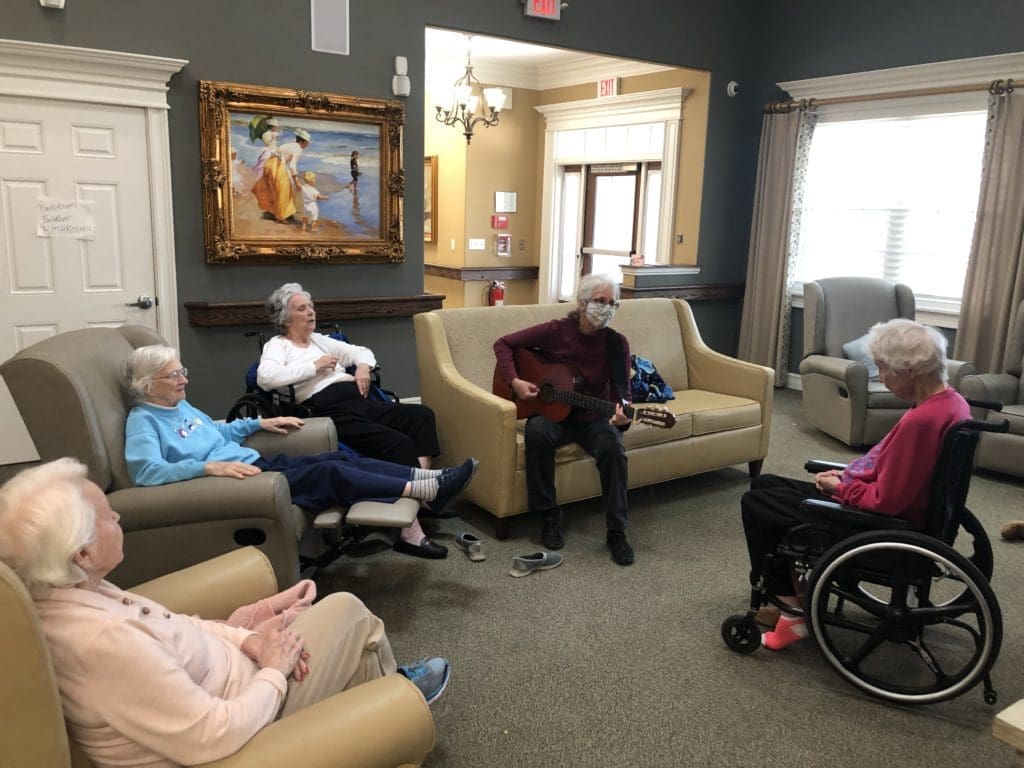 Music in our Homes 
How do Dolan Memory Care Homes make use of these findings?  We weave music into daily life in our memory care homes in a variety of ways.  One of the most exciting ways is by inviting outside performers to play for our residents.  These performances are always tons of fun, often involve interactive activities, and provide a life-enhancing activity that is different from their normal day-to-day. 
We also regularly listen to music even when there are no performers coming in.  It would not be unusual to walk into a Dolan Memory Care Home and see our residents and Care Partners having a dance party! We love using music to enhance our residents' lives, encourage socialization, and stimulate both the mind and body. 
Music and Memory™ Program
One program in particular in our homes really showcases the power of music for people with dementia.  Music and Memory™ is a non-pharmaceutical intervention to provide quality of life and aid in the symptoms of sun-downing and other behaviors.  Through this program, each of our memory care residents has an iPod or MP3 player that is filled with a personalized playlist based on their tastes and preferences. Our Care Partners help residents operate the MP3 players, providing an additional chance for socialization while also getting to listen to some great tunes. Getting to listen to these individualized playlists can provide daily joy and comfort to our residents. 
The Music and Memory Program is yet another example of the personalized care and person-centered approach we take at Dolan Memory Care.  We are dedicated to providing all our residents with the highest quality of life, and music can play a big part in that.