Ask any animal lover how their cat or dog adds value to their life and they will undoubtedly tell you that having a four-legged member of the family adds immeasurable joy to each and every day. In memory care, the effects of having pets around is perhaps even more valuable.
Dolan Memory Care Homes is proud to be pet-friendly. Many of our residents who move into a Dolan home bring their cat or dog with them. Spencer the Collie was a beloved member of the Clermont Manor home for as long as his two humans lived with us. Missy the Poodle was known by every family member and friend who visited the Frontier home. Gypsy the cat was known for curling up at the end of the bed and keeping her human's feet warm. Moving into memory care can be an overwhelming life change, but we've found that when residents are able to move their furry family member with them, it drastically eases the stress of the transitional period-after all, what's more "normal" than having your beloved pet by your side?
The effects of the presence of pets is not just anecdotal. Alzheimer's residents who participated in pet therapy ate 50% more at a meal directly after petting a dog. Anxiety and depression plummet because pets decrease loneliness and foster a sense of purpose. High blood pressure has been shown to drop and social engagement increases. Some residents even show improved physical activity. The phenomenon known as "sundowning" is relieved. Additionally, short-term memory and communication skills improve. Many of these benefits are thanks to the release of hormones like endorphins, oxytocin and dopamine. Sometimes, the use of animal-assisted therapy can even lead to reduced usage of pain and psychoactive medications.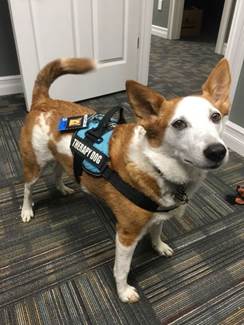 Since not every Dolan home has a resident's pet living in the home with them, Dolan prioritizes offering the benefits of having pets around with therapy dogs and occasionally, even beloved pets of staff. Two of these "Dolan Dogs" are Kateri and Herschel, both of whom belong to a Dolan social worker. Kateri, Herschel are both registered therapy animals. They and their human rotate the Dolan homes, visiting residents who are more than happy to share a smile, a pet and sometimes even treats with their new furry friends. Both are trained by certified dog trainers to prepare them for working in settings like memory care, hospitals, and schools.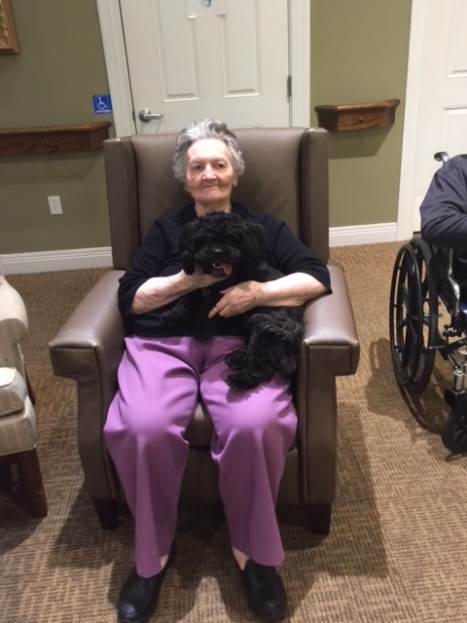 Nino, who belongs to the Dolan staffing coordinator, is another adored dog who makes frequent appearances in the Dolan homes. His calm nature and sweet disposition make him a perfect addition to the Dolan staff! Residents are delighted when they get to hold Nino in their lap.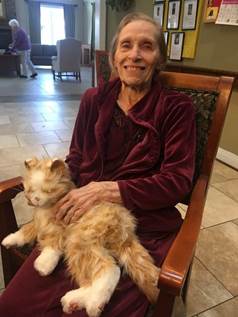 Occasionally, Dolan also uses a creative mechanism for providing pet therapy when an actual animal isn't available. Robotic cats that look, sound and feel like the real kitty deal offer just as much therapeutic benefits as a dog or live cat. They purr, meow, and even snuggle into the human holding them.
We acknowledge that moving someone's pet with them into a Dolan home is not always possible. As such, many families and friends bring their own furry family member to visit, adding to the philosophy that each Dolan home is truly that-a home-and we welcome all families and friends to make themselves comfortable along with their loved ones for whom we care.