Art of any form holds the power to evoke a full spectrum of emotions in human beings. This phenomenon is primal-since the beginning of time, artistic expression has been used to arouse joy, sorrow, anger, confusion, fear, among many others.  According to a study by Gratch et. al, cognitive science suggests that visual art can create emotions in the viewer by exploiting emotional cues we've learned to read over our existence.
In working with persons with dementia (PWD), caregivers learn to focus more on feelings rather than facts. As the disease progresses, PWD are driven by emotions instead of logic or facts. As such, it is up to the caregiver and support system to create opportunities for healthy emotional expression, stimulation and engagement. These opportunities should be multi-faceted. Caregivers may employ the use of everything from music to discussion groups to art to cue emotional discussion, introspection and expression.
As the rates of Alzheimer's and dementia increase at an alarming rate, more and more programs are being developed to offer artistic engagement to PWD. One such program is making waves in the dementia community in Duisburg, Germany. After a friend's mother was diagnosed with dementia, Sybille Kastner implemented an education program at a local art museum for members of the community living with a memory impairment. Her main goal was to enrich the lives of PWD to make it easier for them and their caregivers to cope with the debilitating disease. With the guidance of the local Alzheimer's Association, she developed group tours and programs that stimulate opinionated discussions driven by visual cues that are emotionally provoking.
Kastner understands the reality of her participants' disease and how to adapt the tours to where they're at in comparison to a healthy-brained museum visitor. "Normally, what you do in a tour is you find a recurrent theme and build on it. You can't do that here. But in the moment, you can observe beautifully, and talk about it. It's very intense, it has a different quality. You can experience wonderful moments".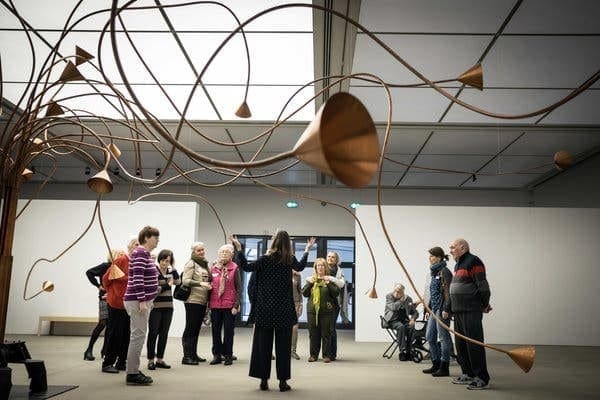 Residents of a dementia home in Duisburg Germany observe a copper art exhibit
These programs are not just occurring on a global scale-they benefit PWD living right here in St. Louis.
Maturity and Its Muse is a 501(c)(3) is a community-driven program "dedicated to improving the minds, health, wellness and quality of life" for the elderly of St. Louis. While it is meant for individuals of all backgrounds including adults living without memory impairment, the program has been a wonderful opportunity for community engagement, mental stimulation and quality of life for residents at Dolan Memory Care Homes. Residents have enjoyed frequent outings such as going on tours at the St. Louis Art Museum, attending the Ms. Missouri Senior America Pageant, watching performances by the St. Louis Strutters, and going to the Silver Screen Series at the local AMC. Events are free and open to the public.
Founder Lynn Friedman Hamilton has been a longtime champion of supporting older adults who are artists. Through Maturity and Its Muse, Hamilton and her partners have demonstrated that aging can be a beautiful, engaging and enriching experience through art and its many forms.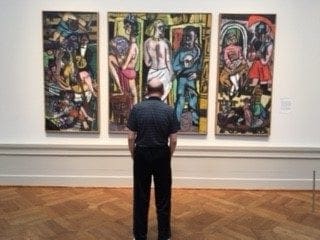 A resident of Dolan Memory Care Homes observes an exhibit at the St. Louis Art Museum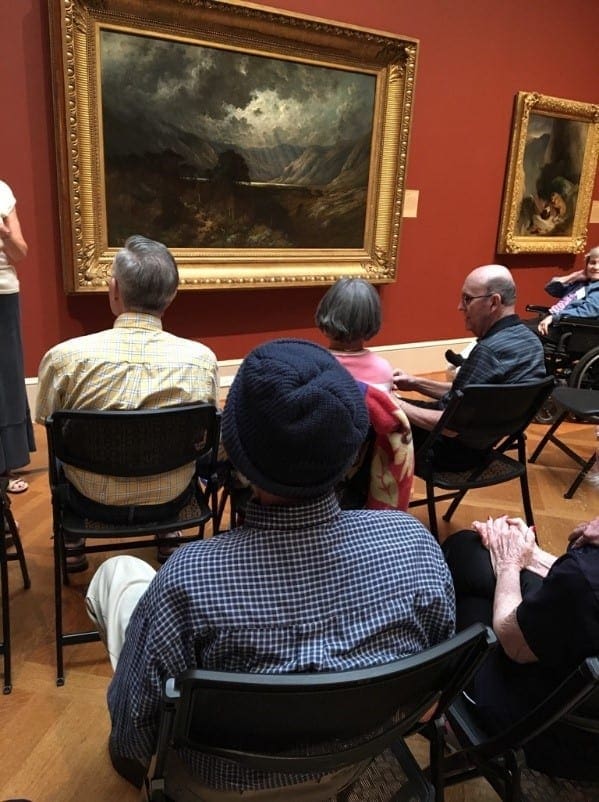 A DMCH resident enjoys a presentation at the SLAM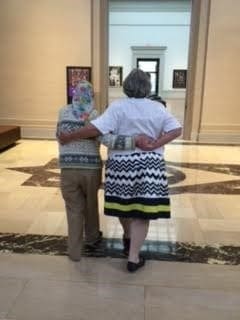 A DMCH resident and social worker walk through the SLAM together